Healthy Dog - 4 Benefits of Dog Supplements For Joints Enriched Composed of Collagen
Posted by NIDHI GUPTA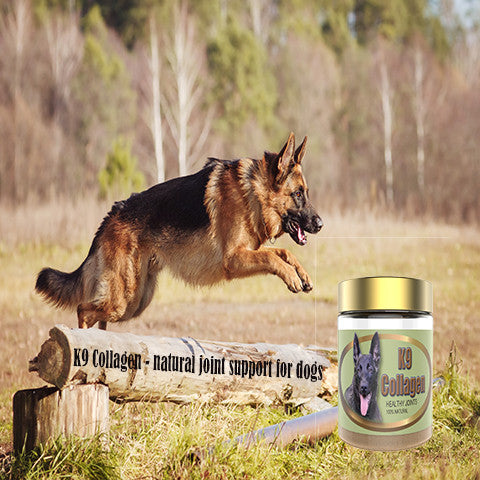 Supplements that are used for humans in order to reduce joint pain are also used for dogs. These supplements cannot be considered as medicaments actually they are recognized as dietary supplements. This type of supplements commonly contains the following ingredients: glucosamine, chondroitin sulfate, , vitamin C and omega fatty acids. However, the most important ingredient that can reduce joint pain is collagen. These collagen supplements for dogs are in the form of delicious tablets in order to lure the dogs to eat them.
Also, they can be added to food or canine biscuits.You can find them available also in a powdered and a liquid form with chicken and veal meat flavor, which should be poured out at the food that the dog is already consuming. There are many different packages and different types of these supplements depending on the size, age and breed of the dog.
Dog Supplements for Joints Improve The Overall Health of The Dog
Supplements for dogs enriched with collagen are perfectly safe to use without any chemicals used in the extraction process. They can help the dog to treat some serious health problems such a spondylitis, polymyositis,osteoporosis and many other. They are also excellent when it comes to rehydration of the dog.
К9 cares for the joint health of your pet.These proteins are especially essential (Salmon fish skin protein –collagen) for contributing to the development of th ebone and joint of a certain dog. Dog supplements for joints are the perfect supplement capable of supporting the resistance and resilience needed to withstand stretching which will reduce friction and absorbs any possible impact.
Evident Positive Health Results in A Short Time, Only By Using Collagen Enriched Supplements
Guaranteed results in SHORT TERM: Unlike other supplements based on glucosamine, a natural collagen articular K9 acts not only as a lubricant for the joints of your pet dog but contributes to the global regeneration of the joint at all levels (cartilage, muscles, tendons, ligaments and synovial fluid). Evident results are visible from the second week of using the protein supplements. It must be noted that to achieve the best results, the entire process must be maintained on a daily basis for a period of a minimum of 4 months. Dog supplements for joints are well known for their anti-coagulant effects that are responsible for overhauling the effete cartilage tissue in the first month of using K9 collagen proteins.
Dogg Supplements (Collagen Proteins) are Responsible for Increasing The Mobility and Agility of The Dogs
Given that collagen is the most important substance necessary to maintain a normal level of activity then it's no wonder that it is so necessary to maintain their mobility and agility.We are aware that the kids are generally more vivid and as they grow older they are facing with a period of passivity, which reflects the decrease in strength, endurance, and durability of the bones, cartilage, and joints (the same goes for animals). Nothing can stop the aging process but, dog supplements for joints can prolong this process allowing the dogs a life full of play and activity.
It Keeps Your Dog Happy
The dog is man's best friend. This wisdom is well known to all of us and it is a kind of sacrifice that each dog is willing to take it for its owner's happiness. If you think that a dog is just one more family member which doesn't deserve any extra attention, you'd be wrong.Many psychiatrists are advising people who are suffering from depression and anxiety, that the first thing they need to do is to adopt a dog. These supplements make them happy mostly due to the fact that they care about their health and provide them with tons of energy. The dogs enter that spunk inside every other member of the family which results in mutual satisfaction. Collection 2019 Sale 70% Off Title for image Title for image