K9 Collagen Healthy Joints: Best Dog Joint Supplement
Posted by K9 COLLAGEN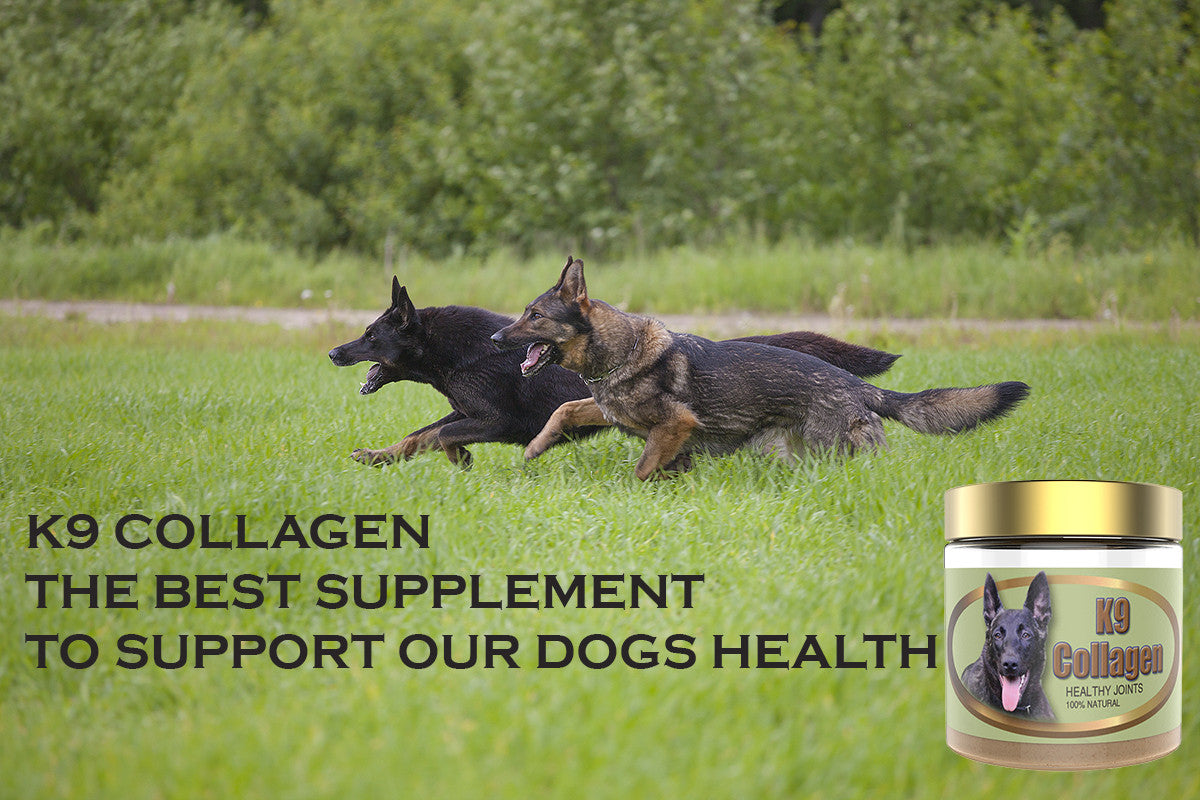 Joint problems including Hip dysplasia and osteoarthritis are the two common problems in dogs. It is no wonder if your dog is suffering from any of these diseases common in canines. But the good news is, there is a solution for the problem. If you are a dog owner looking for a dog joint supplement to feed your dog, in order to bring back the vitality and strength of your dog's bones, K9 Collagen Healthy joints is the best option available for you in the market today.
K9 Collagen Healthy Joints works as unlike any other collagen product in the market, it is purely made out of collagen extracted out of the salmon fish skin and amino acid. They combine together to boost the natural collagen and cartilage of your pet. Collagen contained in the joints is elastic protein and it increases the flexibility of the tissues and decreases pain while conducting activities. The dog joint supplement also boosts the immune system of the dog and protects him from common diseases.
When Should You Feed Your Dog With K9 Collagen Healthy Joints? 
Dog owners can add K9 Collagen Healthy Joints to your dog's daily diet anytime. The dog joint supplement is designed especially to rejuvenate the joints and increase the energy level of the dog. It also keeps the muscle functions that help in protecting the joints in check.
Dogs suffering from hip dysplasia, a problem caused when hip socket have not been properly formed, can be fed with the supplement. Hip dysplasia can easily lead to severe damage in joints that can result in arthritis. In case your dog's breed is German Shepherd, Golden Retriever, Labrador Retriever, or Newfoundland, your dog is more prone to suffer from hip dysplasia. K9 Collagen will help in proper functioning of the hip joints and reduce pain.
K9 Collagen dog joint supplement can also be fed to those pets that have developed osteoarthritis, which is a degenerative condition more prone in older pets. This problem arises mainly due to years of wear and tear of the joints. Any part of the joint can be affected by this disease including elbow, knee, shoulder, back, and hip. As the supplement contains collagen, it will provide an adequate quantity of natural collagen needed to rejuvenate the tissues in the joints.
As the dog is fed daily with the supplement, you will notice increased activity rate, flexibility of joints, increase in appetite, and increase in memory, decrease in weight if the dog is obese and enhanced quality of your dog's life. 
How Will You Know When Your Dog Is Suffering From Joint Pain?
Dogs show varied symptoms when they are in pain. It will be different from one dog to another but most commonly, they will show decreased rate of activity. Your pet will be unable to actively go up the stairs, keep up with you while running, or involve in any normal activity with enthusiasm as before. Dogs with joint pain will also make excessive vocalizations like whimpering, whining, and howling.
Some dogs act strangely while in pain and will try to hide away from you, while others may be all over you, seeking for attention. As a dog owner, you have to keenly watch for signs in order to notice and provide help to your dog as he cannot verbally communicate though he is in pain. Adding K9 Collagen dog joint supplement to his daily diet will keep his health in check and keep joint pain at bay.
Main Features Of K9 Collagen Healthy Joints
The main features of the supplement are listed below:
It is the best dog joint supplement
Among many other products, K9 Collagen is the best dog joint supplement as it is made out of pure collagen extracted from salmon skin. There are no side-effects of supplying this to your dog as it is 100% chemical-free.
It supports hips and joints
If your dog is suffering from hip dysplasia or osteoarthritis, the supplement can work wonders to eliminate joint and hip pain and strengthen the bones of your dog.
Overweight can cause your dog to suffer from joint pain as a result of excessive pressure in joints. K9 Collagen reduces the weight of your dog and maintains his overall health.
Choose K9 Collagen dog joint supplement today for a better lifestyle for your dog. Collection 2019 Sale 70% Off Title for image Title for image