K9 Collagen Hip and Joint Supplement For Treating Hip Pain Dogs
Posted by NIDHI GUPTA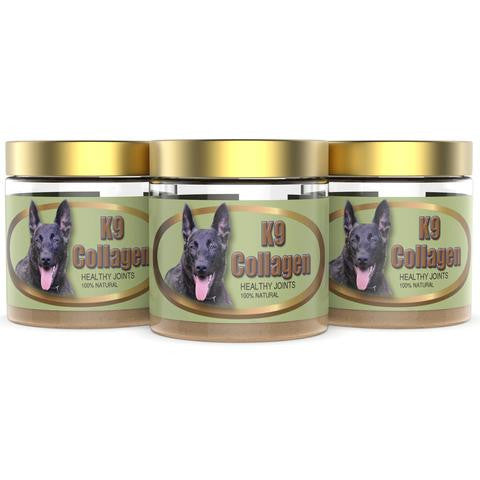 It is heartbreaking to witness your dog suffering from extreme joint pain as a dog owner. Hip dysplasia in dogs can be extremely painful and it can curb your dog's daily activities and change his temperament. If you are on a look out for a supplement to suppress the pain and heal hip dysplasia, K9 Collagen Hip and Joint Supplement is the best for treating hip pain dogs.
What is Hip Dysplasia in Dogs?
Hip Dysplasia is a degenerative disorder in which the growth of the bone is abnormal. In the case of hip dysplasia, the hip bone and the leg bone of your dog won't fit. The leg bone will slide out of the pelvic socket that may lead to dislocation, In the long run, painful arthritis may develop in one or both the hips of your pet. The pet will find difficulty in performing his daily activities like jumping, climbing up the stairs, or running.
K9 Collagen Hip and Joint Supplement if included in your dog's daily diet can cure hip pain dogs.
Why is K9 Collagen Hip and Joint Supplement Effective?
K9 Collagen Hip and Joint Supplement is a pure marine collagen supplement designed specially to treat hip pain dogs. The supplement which comes in the form of a powdered substance is 100% chemical-free and contains collagen extracted out Of salmon fish skin, unlike other products that contain animal fats.
The amino acid and highly bioactive collagen work from the inside to strengthen the hip bones of the dog and relieves pain. The supplement effectively increases the mobility of the dog, increases his immune system, increases his brain power, regenerates dead cells and tissues, reduces his weight, and cures arthritis. Due to its chemical-free nature, the supplement can be fed to your dog anytime and every day.
What Are The Key Facts About Hip Dysplasia?
The canine hip dysplasia is a type of arthritis that causes hip pain dogs. It is advisable to include swimming as a part of your pet's daily exercise instead of running when he is suffering from this degenerative disease. Over-feeding your dog will worsen the condition as when your dog is overweight; the extra pressure that is supplied to the joints will develop pain.  However, if your dog is fed with effective supplements early, it can decrease the severity of the disease and even cure it. Among all the products found on the market for treating hip pain dogs, K9 Collagen Hip and Joint Supplement is considered the most effective by all users.
Which Breeds of Dogs Are More Prone To Develop Hip Dysplasia?
If you own a large breed, your pet will be more prone to develop hip dysplasia owing to the pressure his weight supplies to the joints. The breeds of dogs including German Shepherd, Golden Retrievers, St. Bernards, Labrador Retrievers, and Rottweilers are most likely to develop hip dysplasia. The type of nutrition provided to the pet, the environment he lives in, and his genes all contribute to the growth of the degenerative disease. You can save hip pain dogs by including K9 Collagen Hip and Joint Supplement into your pet's daily diet early before you notice symptoms of hip dysplasia.
What Are The Main Benefits of K9 Collagen Hip And Joint Supplement?
The multiple benefits of K9 Collagen Hip and Joint Supplement are listed as under.
It is an effective treatment for hip pain dogs
The collagen and high potent amino acid provide effective treatment for hip pain dogs by strengthening the joints of the pet.
Immobility is one of the major symptoms of hip dysplasia in dogs. If your dog is finding difficulty to perform exercises or daily tasks with ease, you can feed him with the supplement to see positive results.
It increases collagen and cartilage
As your dog grows older, the collagen and cartilage production in his body that is responsible for smooth functioning of his joints decreases. It can cause pain and immobility. K9 supplement provides natural collagen and cartilage supplement to your dog and helps him bounce back to his earlier health.
You can include K9 Collagen into your pet's daily diet and treat hip pain dogs naturally starting today. Collection 2019 Sale 70% Off Title for image Title for image